A Legacy of Care Spanning Generations
Westminster Canterbury Richmond is one of Virginia's most esteemed retirement communities, thanks to our unwavering dedication to excellence and longstanding tradition of care. We take immense pride in building on a legacy that has resonated with generations of residents—leaving a lasting mark on our community. That's why residents like DeWitt Casler, as well as Nita and Tommy Bryant, chose to make Westminster Canterbury Richmond their home.
Prior to their arrival, DeWitt Casler and Nita and Tommy Bryant were already familiar with Westminster Canterbury Richmond thanks to a family member who lived in the community—for DeWitt, it was his beloved aunt; for Nita and Tommy, it was Tommy's parents.
Join us as they share their unique connection to the community and how it ultimately influenced their decision to move here.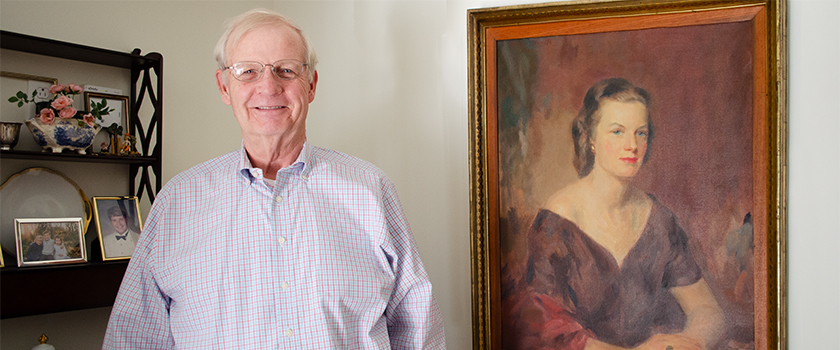 Special Connections
Fresh from making new memories with his grandkids in Kansas City, DeWitt recalls his time with his beloved aunt and what he encountered over the years.
"I have a lot of good memories visiting her here," he says. "Any time I visited, I could see her look of contentment, knowing she was consistently surrounded by friends while doing the things she loved." It's also when DeWitt realized this is where he should be.
DeWitt recognizes Westminster Canterbury Richmond has always taken care of the smallest details, aiming to make residents lives better. For example, the community recently re-leveled all the sidewalks, to make it easier for wheelchairs and walkers to function without difficulty.
"That move alone tells me a lot about how much this place pays attention to all the little details and shows how much they care," he says.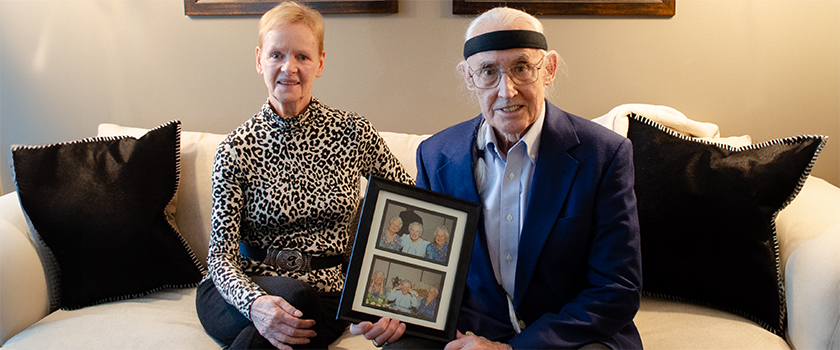 More Than Just a Family Affair
Nita and Tommy had a slightly different experience, but one that isn't uncommon for adult children caring for their aging parents.
"We visited Westminster Canterbury Richmond for my father," Tommy explains. "He needed to live somewhere, and we wanted to be close to him. We were only five miles from here at the time."
Within the next 10-12 years, Nita and Tommy witnessed how his parents thrived once they walked through the doors.
"My mother-in-law was a social butterfly," Nita says. "She'd be one of the first people to say hello. She took everybody under her wing, gave them a guided tour of the community, and told them where the store was."
Tommy adds, "She consistently told us all those years ago it felt like she was back in college." It was a feeling of camaraderie and goodwill. "When we moved in, we were introduced to The Westminster Canterbury Way. It's a combo of attitude, gratitude, sociability, kindness and looking out for one another."
When it came time to decide whether to move into the community, Nita and Tommy said it just felt like a natural progression, given how well they knew the campus from years before. It was so natural that years later—thanks to a strong connection to the community—their daughter got married in the on-campus chapel.
"Her grandparents had limited mobility, so she decided to take the wedding to them," Nita says. "Tom's brother (a priest) officiated the wedding."
"You'd be surprised by the number of people who've had relatives here," Nita explains. "Tommy's mother was joined by two sisters and their spouses, and their children are following suit. One of Tommy's cousins moved in months after we did. Two other cousins are on the waitlist. And one of our former neighbors will be moving into the new Vitality Apartments next fall."
And who knows? Maybe, many years later, Nita and Tommy's daughter will find her way back and connect once more to the place her parents now call home.
When people recognize their loved one's happiness, contentment and the quality care here, it's natural to picture and want a future like that for themselves. To learn more about why Westminster Canterbury Richmond continues to attract friends, neighbors, and generations of families, come experience our vibrant community for yourself. Schedule your visit now by calling (877) 277 – 9908.