An Artist's Paradise in Richmond, Virginia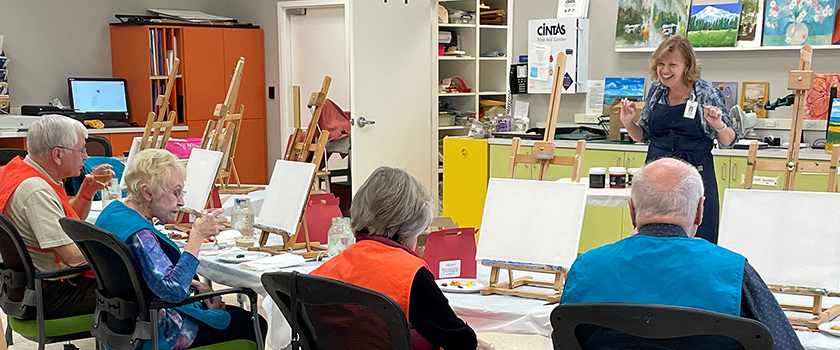 Find what inspires you at Westminster Canterbury Richmond

Creativity is a huge part of the human experience. The history of the world can be told through its most influential pieces of art. Although not all of us are imbued with the talents of Vincent van Gogh or Georgia O'Keeffe, each of us possesses the ability to bring some color into our lives. For some it might be through paint on a canvas, while for others it may be words on a page. Self-expression is one of the most valuable ways we can communicate emotion.
In addition to creating art, the appreciation of provocative works in all mediums is just as meaningful. Our own lives can be explained by the records we buy and the movies we love. Art is all around us, and many people take inspiration from nature; but through the rigors of a busy life, creative interests can take a back seat. Yet often in later years, people return to the hobbies and interests that brought them joy in their youth.

Creative thinking is important for retirees

Many people find themselves with more free time to explore new interests after retirement. This is not uncommon. Just as physical activity is a major part of maintaining mobility, keeping our brains active is also an important component of healthy aging. Art allows us to approach an idea or concept with critical thinking and problem-solving skills.
Creative arts provide a sense of purpose. In a group setting they can promote socialization and a sense of community. Experiencing art in a shared setting can also help with morale as well as spark stimulating conversation with others. Many retirement communities offer a wide variety of arts and crafts programming as a way of helping residents connect.

Arts at Westminster Canterbury Richmond

For retirees, the greater Richmond area offers a wonderful array of opportunities to experience great art. The Virginia Museum of Fine Arts boasts an impressive collection ranging from the Impressionists to today. There's so much going on around Richmond that area residents are spoiled for choices. Among the city's countless murals popping up, you can see exquisite performances at the Richmond Ballet and the Richmond Symphony. Stroll through the Broad Street Arts District, and visit the independent galleries who help keep the city a unique destination.

Perhaps nowhere has more for creative-minded retirees than Westminster Canterbury Richmond. Our growing campus features almost as many classes and arts programs as a small liberal arts college. Many of the residents are retired from high-powered careers or taking care of families and enjoy having time to pursue new passions.

More than a dozen art teachers offer classes at Westminster Canterbury Richmond, and some are even residents. We offer more than the standard watercolor and drawing classes. In our McGue-Millhiser Arts Studio spaces, you can find a different class nearly every weekday. Some of our most popular classes are pottery, pen and ink, Small Crafts and woodworking, to name just a few!

One of the most popular classes in the arts department is Fused Glass. The classes are almost always full. If you can get a spot, the project consists of melting colorful glass pieces together in a kiln to create wonderful glass tiles and other decorative accents. Pottery classes are also quite popular as residents can hand build one-of-a-kind functional pieces or decorations for their homes, friends and family.

If that's not enough to pique your interests, we have a state-of-the-art theater on campus. The Sara Belle November Theater hosts Broadway musicals, classical music and even a little bit of rock 'n roll from both local and internationally known performers. Best of all, the programming is free for residents thanks to generous gifts to Westminster Canterbury Foundation. For those who enjoy a night at the symphony or an evening of drama, you won't have to go far.

Artist-driven leadership

We spent some time with Sarah Abernathie, the Visual Arts and Programs Coordinator at Westminster Canterbury Richmond. Since 2019, Sarah has overseen the visual arts programming and was also in charge of reimagining and redesigning the studio spaces.

"I've been doing art since I was a child. My mother is an artist, as are my sister, brother, stepmother and father. I've been exposed to art all my life. I have three daughters, and they are all artists as well. It's in our blood and hearts," Abernathie elaborated. "This is my dream job!"
Sarah spends her day supporting the lengthy list of Independent Living arts programs where coincidentally her mother is both a resident and teacher. "The residents and staff here are great!" Sarah noted. "I came from a private girls' school but immediately jumped on this opportunity, knowing it was the perfect fit for me." In this role, art is front and center for Sarah, instead of just an element of her job.

"I get very close to my artists. As soon as I hear a creative person is moving in, I make sure to meet them as soon as I can. I also find that our art excursions around Richmond have strengthened my relationships with my artists and the relationships they have with each other." Something else that brings residents together are the wine and design events in which residents can relax and let the right side of their brain take over.

Sarah also loves to show her artists' work. The community has several gallery spaces and a cabinet for residents to sell their works and raise money for Westminster Canterbury Foundation's Annual Fellowship Fund.
"We have three galleries on campus to show not only our residents' art but also local groups and individual, Virginia artists. For our resident gallery, I send out a letter to residents, letting them know when to bring their art and what the theme is. One artist has more than 35 pieces we will hang in the resident art gallery next month. I have another resident who when he came here, he asked if we could arrange a special area for him to do metalworking. Now we have his metal mobiles in the garden outside of the studio, and residents come by to see what he's creating."

Art is a huge part of daily life at Westminster Canterbury Richmond. As you walk through the halls, you will see countless impressive pieces by residents and local and nationally known artists. Eye-catching art reminds us to slow down and take in beauty or process the emotion we experience while viewing something evocative.

We invite you to join us for a tour of our galleries and studio spaces. Call 877-277-9908 to get more information about our unique arts programming.