Exploring the Benefits of Life Care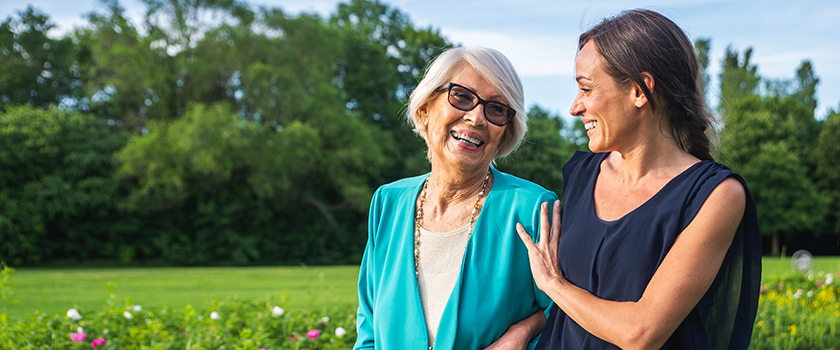 When making the decision to move to senior living, we are faced with more choices than ever before. But our motivators remain the same. Simply stated, we want to live as independently as possible for as long as possible and live within the financial boundaries we set when we planned our retirement.
The Big 'What Ifs'
Standing between us and the peace of mind we seek are some critical unknowns.
How long will we live? What healthcare challenges will we face? What type of care will we need and for how long will we need it? Will care be available when we need it, and will we be able to afford it?
You can eliminate many of those uncertainties by ensuring access to and controlling the cost of high-quality care services.
A, B, C . . . Navigating the Options
With so many senior living options available, it's easy to get confused by the differences among them.
Life Plan Communities, sometimes called Continuing Care Retirement Communities or CCRCs, are a type of senior living. Typically, residents pay an entrance fee and monthly service fee. Both fees vary according to the size of the residence.
Life Plan Communities offer different types of contracts or resident agreements to Independent Living residents. The contract type also affects costs.
Life Care (called a Type A contract) significantly stabilizes your monthly service fee. Regardless of how much care you need and how long you need care, your monthly fee remains generally the same as when you live in an independent living residence. Life Care secures your future care so you can protect your assets from the ever-rising cost of care and ensure the legacy you carefully planned. And Life Care can provide significant tax advantages.
Modified contracts (called Type B) are also offered by some Life Plan Communities. Modified contracts have lower entrance fees and monthly fees because either care periods are restricted or care is not fully included, so over time, you will pay much higher fees when you need care. Your fees may increase by thousands of dollars each month. Couples may experience another drawback. When spouses have different care requirements, they may have to pay two monthly fees.
Fee-for-Service is the third type of contract offered by Life Plan Communities (Type C). It provides for the lowest entrance fees and monthly fees, but if care services are needed, they are paid at the current market rate.
Rental communities typically do not have entrance fees but have much higher monthly fees, and when a continuum of care is available, it is provided on a pay-as-you-go basis at market rates.
Will I Need Care?
None of us can know what the future will bring. But we know that a person turning 65 today has a roughly 70% chance of needing supportive care in their lifetime and will receive care for an average of three years.
Suppose you need to move from independent living to assisted living, memory care or skilled nursing. A Life Care contract will cover the full continuum of care without the destabilizing effects of the increased monthly cost. For many, its most significant benefit is the peace of mind you'll provide yourself, your spouse and the people who care about you.
State-of-the-Art Care, Certified for Excellence
At Westminster Canterbury Richmond, short- and long-term care is available right where you live.
Regardless of any health challenges that may be thrown your way, you don't have to move from the community you love to receive assisted living, home health services, memory support, rehabilitation therapies or long-term care. Instead of being faced with finding care in a crisis situation, you will have priority access to our dedicated assisted living and memory care neighborhoods and our highly regarded Mary Morton Parsons Health Center, offering state-of-the-art care right on our beautiful 60-acre campus.
Westminster Canterbury Richmond was the first community in Richmond to be accredited by the Continuing Care Accreditation Commission. Since 1987, we have voluntarily undergone a rigorous annual review process. We have continued to meet and exceed the highest national standards for the quality of health programs, resident life, financial strength and administration.
CARF, an independent, nonprofit health and human services accreditor, is the only accreditor for Continuing Care Retirement Communities and Life Plan Communities.
If You Do Outlive Your Financial Resources…
Westminster Canterbury Richmond is a nonprofit, faith-based community committed to ensuring our residents always have a home with us. The Fellowship Program of our Westminster Canterbury Foundation serves about 100 individuals annually with the promise that no one will ever be asked to leave due to an inability to pay through no fault of their own.
Live Life Well
You won't find a more holistic approach to wellness than at Westminster Canterbury Richmond.
Here, you are motivated to focus on comprehensive wellness. Our new Vital Living Center – part of our Vibrancy! expansion will feature a fitness and aquatic center, humming with engaging activities like healthy living seminars, exercise classes, social events and more.
You can live a longer, healthier, more engaged life. Plan your days as you choose, make new friends, leave the cooking and cleaning to us and enjoy a maintenance-free lifestyle.
Talk to Our Experts
Are you ready to learn more about how you can plan to Live Life Well?
Our advisors are available to provide answers to your questions, help you explore the advantages of Life Care and provide expert advice as you decide if Life Care at Westminster Canterbury Richmond is right for you.  Click here to contact us now or call 877-277-9908.