How Gardening Nourishes the Soul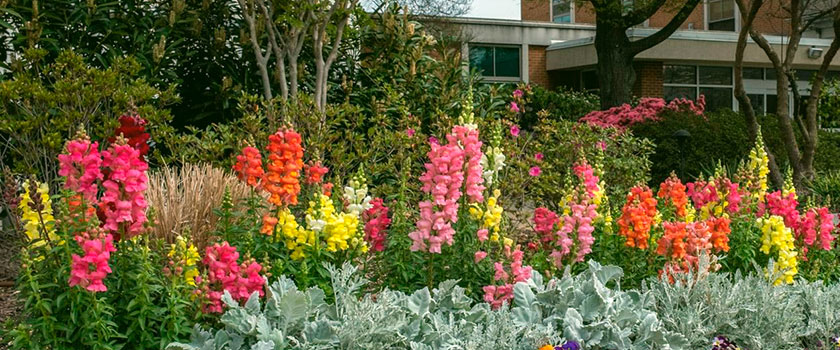 Gardening is a great hobby for those who like to nurture. Each spring, hopeful planters head to nurseries to pick out the hardiest plants for the summer season. A patch of vegetables or a bed of flowers can make a lot of people feel right at home. In recent years, the indoor plant market has exploded, becoming more popular with people of all ages. Some people enjoy gardening so much that they enter their most prized plants in shows and competitions.
The gorgeous, 55-acre Westminster Canterbury Richmond campus boasts an impressive collection of lovely gardens including 22 named gardens, 140 individual flower and vegetable garden beds, 1,300 inventoried trees and acres of foundation beds. Our very own horticulturist Kathleen Pender works closely with residents to maintain them. This June, she led an educational event in the Adams Roof Terrace that showcased the beautifully landscaped grounds of Westminster Canterbury.

Advantages of gardening for seniors

Outdoor hobbies help us keep busy during warm weather months. Low-intensity activities like gardening get people outside without the physical strain of athletic recreation. For some, there are fewer more satisfying feelings than running their hands through cool earth. Even for those without access to outdoor planting space, there are plenty of ways to enjoy this pastime.
Whether potting from seeds or starting with small plants, gardening builds anticipation. Daily waterings, feedings and inspection add a sense of routine to life. Providing care that results in flowering blossoms or edible goods is richly rewarding. Happy gardeners also tend to enjoy chatting about their plants and through those conversations exchange tips and build deeper connections with neighbors.
The mental health benefits of gardening have been studied and suggest nurturing plants is good for wellness. Gardening requires people to slow down and focus on one task at a time. Flowers and unique leaf structures ask us to stop and wonder at the natural beauty around us.

Selecting the right plants for you

Petal color and leaf patterns are some of the reasons people are drawn to certain varietals. A specific aroma or unique shape can trigger a delightful memory or a pleasant feeling. Whatever your reasons, it's important to start with a plant that can thrive in your space. The best place to begin is by asking a gardening store associate. They can tell you about sunlight and optimal growth conditions.

For some, reliable ease is the goal when selecting a plant, while others enjoy more needful varietals. Some plants, like herbs (grown for use in cooking), are a low-maintenance option that can easily be grown on a kitchen windowsill or in the yard. Roses and other flowers tend to need more care and often do better outdoors. Tomatoes are a big favorite as they are simple to grow and produce an abundance of red fruit throughout the summer. Many are surprised to find they can even thrive on balconies with relative ease.

Considering your schedule, select plants that fit into your lifestyle. Before investing in a plant, be sure your growing space is suitable for survival. The best time of year to purchase plants is typically May through June, but wonderful varieties can be found all year.

The right tools for the job
It's about more than just digging around in the dirt. Aside from appropriate care, the success of your plants will rely on a variety of factors. Starting with quality soil full of nutrients will ensure a whole season's worth of growth. Along with rich soil, a lot of plants benefit from "plant food." Check with a nursery associate on which feeding products are best.

Not every garden needs to be a huge amount of space. Almost anything can be made into a planter. As long as there's adequate drainage, the sky's the limit. Potted plants make excellent decorative accent pieces indoors and outdoors. Pots can range in price, but clay terra cotta are the most common and can be found inexpensively at any hardware store.

Almost all plants require pruning. Just like a dull knife is subject to slips, dull shears can damage plants. Pruning plants keeps them healthy and shapely. The best way to keep flowering plants in bloom is to regularly clip the fading blossoms. Quality, rubber-lined gloves are also helpful in keeping hands clean and free from scratches.

In June, we hosted an event for attendees to dig in deeper with us for an afternoon of gardening and outdoor activities that would be available to you as a resident at Westminster Canterbury. Attendees learned about the gardening techniques that are used to keep the campus looking so evergreen. In addition to refreshments and prizes, everyone received a beautiful plant for their own garden.