Make Yourself at Home by Joining a Westminster Canterbury Committee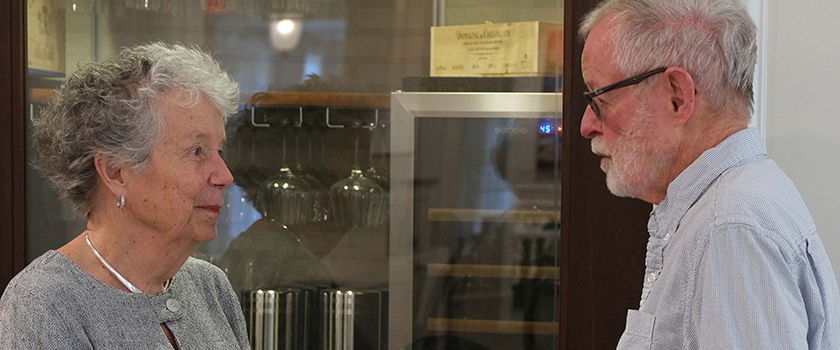 Moving to a retirement community is an exciting, fun-filled journey budding with possibilities. To truly embrace this new chapter in your life, keeping an open mind and being willing to connect can lead to the most wonderful friendships. Getting involved is the surest way to make new connections.  

Joining in the fun is easy at a vibrant community like Westminster Canterbury Richmond. Here, you'll find an assortment of volunteer opportunities and committees full of people just like you. We empower our residents to shape daily life through a Residents Association Board, giving a voice to their interests and passions.

Meet Resident Board President Carol Fox

Since joining our community a few years ago, Carol Fox has embraced the spirit of helping people make new connections. As the president of the Residents Association Board, she and her fellow members play an integral role in what sets Westminster Canterbury apart from other retirement communities.

"The Residents Board is made up of about 50 people," Carol says. She goes on to explain the board includes 22 committee chairs and 28 floor representatives. "We meet every other month, and it's quite informative because everyone can speak about the programs they're involved in, either on a committee or as a representative of their floor."

Carol is incredibly proud that during their meetings, staff, committee chairs and floor representatives all sit intermingled together, allowing for greater interaction and deeper connections. In her opinion, getting involved at this level is the best way to make yourself at home—and to take ownership of your community.

Becoming a "Joiner"

Whether you identify as an introvert or an extrovert, living in a retirement community gives you lots of opportunities to create friendships. To increase your opportunities to connect, Carol recommends that you join a committee. Not only does this allow you to explore your interests, but it can also help you establish an immediate sense of belonging with your neighbors.
Carol lists several committees that are popular with new residents:
Landscape, Gardens and Greenhouse Committee: Known for its gorgeous landscaping, Westminster Canterbury is meticulously looked after by horticulturist Anne Tremper and her team. Annie collaborates with a group of dedicated residents to make choices that keep the campus beautiful, environmentally responsible and enjoyable for all residents. If spending time outside is your thing, this is the committee for you.

Performing Arts Committee: Our state-of-the-art Sara Belle November Theater is kept busy with regular programming for residents. Live entertainment is a cherished amenity at Westminster Canterbury, and our theater is always stocked with top-tier entertainment. Be a part of the team that picks the programming!
The Shops on Main Street: Echo Shop, Treasure Chest, Men's Corner and Furniture Room: Westminster Canterbury's fundraising efforts include several resale shops. The shops raise money for Westminster Canterbury Foundation's Fellowship Fund and provide a place for residents and staff to purchase wonderful pieces for themselves or loved ones at great prices. Satisfy your inner shopkeeper and spend time in the store merchandising new inventory, all for a good cause.
Welcoming Committee: Staying true to our legacy as a warm and friendly community, residents have formed a committee to make future Westminster Canterbury Richmond residents feel like a part of the family. This is an excellent opportunity to meet people as they move in. This is only a fraction of the committees that meet regularly!

Discover What's Important to You at Orientation Events

With the Vibrancy! expansion moving right along, Carol and other board membershave been organizing orientation events for soon-to-be residents. The most recent event focused on committees and offered future residents a chance to chat with representatives. If you're ready to experience what community means, call 877-277-9908 to schedule your visit today.