Meet Your Future Neighbors
More time for joyful activities brings new opportunities for social connections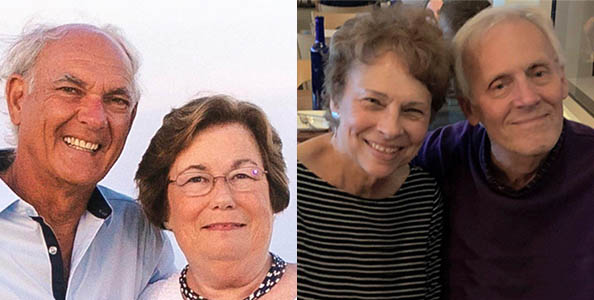 Retirement is the perfect time to expand your social network. More time for joyful activities brings new opportunities to meet people with shared interests. At Westminster Canterbury Richmond, you'll find a thriving social life for residents and soon-to-be residents. As construction continues on our Vibrancy! expansion, we welcome depositors on-site to see our recent Promenade dining renovations and make selections for their apartments.

Our thoughtful sales team noticed that two couples in our Vibrancy! Club live just a few minutes from each other in Northern Virginia. After we introduced them, Derrick and Luayne Crandall and Tucker Helmes and Toni Della Ratta, the group hit it off and had dinner together. While they hadn't known each other previously, their life experiences were very similar. Both couples have a great fondness for Richmond because their adult children have lived there over the years.

Tucker and Toni live in Great Falls, Virginia. They are in semi-retirement as they await the completion of their new home at Westminster Canterbury Richmond. Tucker is a Doctor of Chemistry, and his storied career includes working with the National Cancer Institute as well the Chemical Industry Trade Association. Toni has had an impressive career in higher education, working in career counseling and development roles at Georgetown University and George Washington University. They both stay busy consulting in their respective fields.

Derrick and Luayne also had busy careers prior to retirement. Derrick spent his adult life advocating for national parks and other wildlife causes through various roles with different government agencies, and he was part of the inception of the Environmental Protection Agency. He visited all 423 national parks in the United States. Luayne was a sixth grade teacher with the public school system in McLean, Virginia, where they still reside.

It's easy to see how these four get along. Just as their working lives paralleled each other's, their retirement journeys are also moving on the same path. What attracted both couples to Continuing Care Retirement Communities (CCRCs) is their desire to remain active and vibrant.

Staying active longer
"When we got together and we were talking about this, I sensed that all four of us have lived our lives with our hands on the steering wheel. We've done that and we want to continue to do that. We're not ready to go on auto pilot or anything like that. On the other hand, we want to know that if we get a flat tire, we can call for a repair, so to speak," Derrick said.

Tucker and Toni agreed: "We have this large house in Great Falls, and it's just the two of us now. It's a burden to maintain the house. We started looking at active adult communities and through that learned about CCRCs. What appealed to us was the idea of a community of like-minded people and access to long-term care. The more we learned about CCRCs, the more it resonated with us."

A contributing factor to all four was their wish to minimize the burden on their children. Luayne explained, "My parents had moved from New England to an independent living community in Florida. It worked well for them. Their reasoning for doing it was to not put any burden on my brother and me. We'd like to do the same for our own children."

"And we want to be well cared for," Derrick added. "We intend to live long, healthy, active lives, and Westminster Canterbury supports that. They encourage physical activity and provide medical care and other kinds of help we need. I think you're going to hear the same thing from our new friends in Great Falls."

Breaking new ground
It's an exciting time to be a Vibrancy! Club member. Future residents are currently making selections for the interiors of their apartments. The expansion was the deciding factor for both couples. Reserving an apartment in the new building was a guarantee, whereas some waitlists can take years to get through. They both were able to secure "Magnolia" floor plans.

Toni and Tucker already started the selections process for their apartment finishes. "You can mix and match, which is good, so you're not stuck with one color. We received our binder in the mail, then we had our selections meeting. We still needed to take it home and think about it," they said. "The team there has been helpful in guiding us through room by room. They are very organized." The Crandalls like that big design choices are already made for them. Deciding on cabinets and countertops is fun for them to think about.
The Vibrancy! expansion is set to wrap in 2023 with residents moving in during 2024. There's a lot of anticipation around Westminster Canterbury as construction continues.

"It's going to be like going away to college," Toni laughed, "Everyone will be arriving at the same time to a fun new community. We've already met wonderful people who live there or are going to live there, and we'll continue to do that. Plus, there will be lots of activities we can enjoy. Things like going to the ballet or the symphony or trying new restaurants are just more fun to do with other couples—we can't wait to meet more people like us."

If you're looking to grow your social network, then Westminster Canterbury is a great place to be. In addition to on-site events, our team helps foster new relationships through direct introductions and group activities. Come see the places, meet the people and feel the vibe that makes Westminster Canterbury such a wonderful community. Call one of our Life Care counselors at 800-445-9904 to schedule a tour.