Mixing Things Up with New Executive Chef Matt Salsberry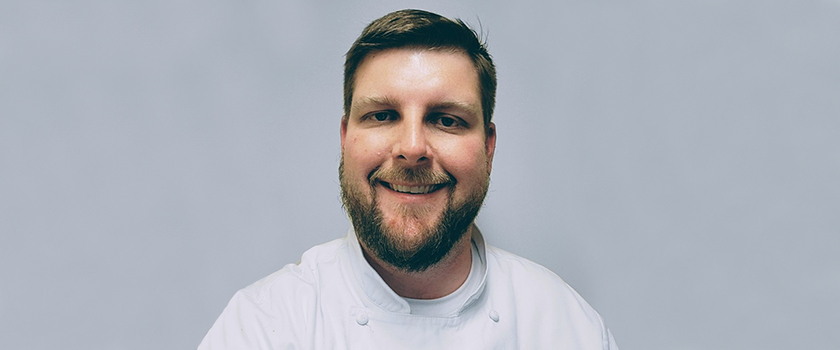 The team at Westminster Canterbury Richmond is pleased to welcome Matt Salsberry, executive chef, who brings with him new flavors and a wealth of experience. "I am excited to be part of the culinary team at Westminster Canterbury Richmond," Salsberry says.
He will add a new zest to the culinary experience at our four delightful dining venues, as well as our new Promenade dining venues opening in 2022. Keep reading to get to know Matt Salsberry, our new "face behind the food," and perhaps even try the unique recipe he shares!
Taking a bite out of life

Salsberry hails from Virginia Beach, where he grew up longboard surfing, frisbee golfing at Bay Point Park and skateboarding along the quintessential boardwalk. The coastal town is just two hours from Westminster Canterbury Richmond. It was in Virginia Beach where he fell in love with cooking and started working at a beach-style seafood restaurant called Rockfish.
Salsberry soon traded his surfboard for a snowboard to attend the Culinary Institute of America in Hyde Park, New York. It is considered the world's premier culinary college and has graduated many nationally renowned chefs including Anne Burrell and Duff Goldman. "I gained an abundance of knowledge working with and learning from the largest concentration of Certified Master Chefs in the country," Salsberry says.

After graduating in 2006, Salsberry spent the next several years moving around the eastern part of the U.S., learning and working in various culinary styles and cultures. In Virginia Beach, he worked as an executive chef for two Mexican restaurants, which allowed him to grow his management and leadership skills. In the Hudson Valley of New York, Salsberry worked at several farm-to-table restaurants, where he learned all about vegetarian and vegan cuisine, food gardening and how to take advantage of all the seasonal harvests available.
A passion for residential dining
Salsberry found a home in Richmond, Virginia, when he accepted a position at the University of Richmond as the catering sous chef. He was quickly promoted to head catering chef and was responsible for creating custom events for all sorts of on- and off-campus VIPs. "I developed a passion for residential dining in this environment where I continued to grow professionally," Salsberry says. He brings this enthusiasm and innovation to us at Westminster Canterbury Richmond.
Bringing fresh new dining experiences
In 2022, Salsberry looks forward to more farm-to-table offerings, creating residents' favorite comfort foods with healthier options, and perhaps even some interactive experiences that engage all the senses. And, as more and more people are choosing a gluten-free lifestyle, there are plans to incorporate gluten-free recipes into menus, such as using gluten-free flour in crab cakes and certain breaded fried foods. "These are subtle changes that most people won't even notice, but they will help us meet a greater population's dietary needs," Salsberry says. Residents are encouraged to share their ideas and feedback, so if there's something you'd like to see on the menu, be sure to let the team know.
Residents can also expect more variety as dishes with new ingredients and innovative cooking techniques pop up on our dining room menus. Having studied molecular gastronomy, Salsberry enjoys presenting foods in new and exciting ways. "You might see ice cream with liquid nitrogen, or in Bella's small plate venue, we might take balsamic vinegar and make pearls out of it for a salad garnish or create a nest of olive oil that melts into your salad," he says.
Those with adventurous palates can enjoy a pasta-less ravioli, duck confit tamale or beef barbacoa pappardelle pasta. Salsberry's favorite dish of all time, braised veal cheeks with candied oranges, is an elevated version of braised short rib and may be on the menu at some point. Simply put, he enjoys mixing things up and getting people excited about food. "My goal is to bring the downtown Richmond dining experience to our campus," he says.
>>RECIPE: Chef Matt Salsberry shares his ravioli duck confit recipe.
To learn about all the flavors and fun that you can currently find at Westminster Canterbury Richmond, to hear about our new Promenade dining venues opening in 2022—or to explore all that's coming with our Vibrancy! expansion—we encourage you to contact us by clicking here or calling 877-277-9908 today. There's always a seat for you at our table!