Tear Down That Wall!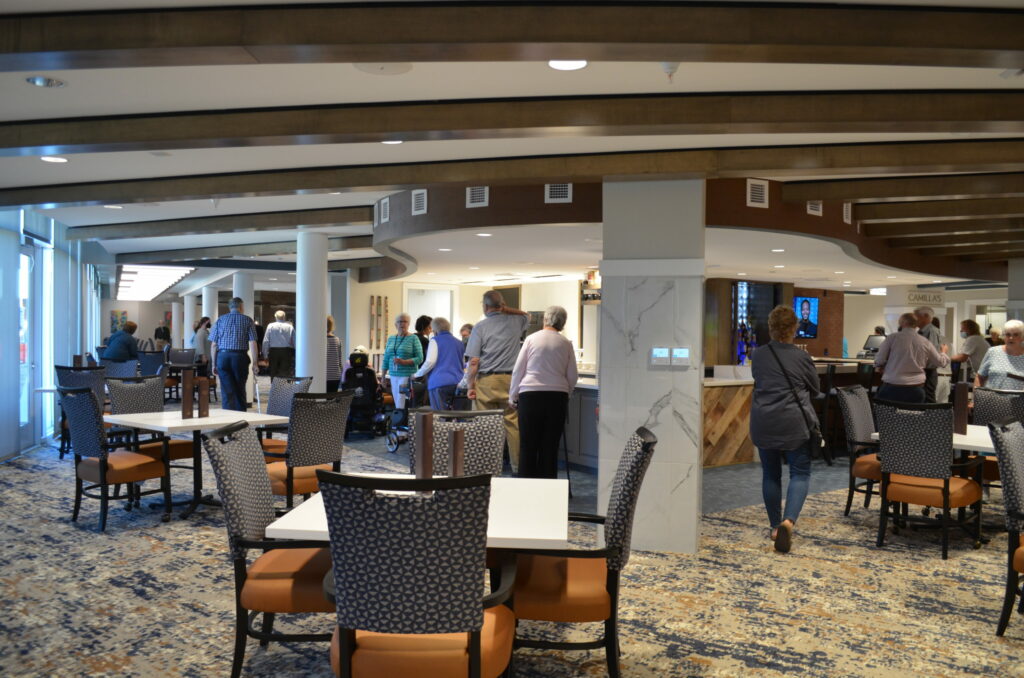 After a year of construction, Westminster Canterbury Residents and staff showed up in droves for the Ribbon Cutting and Grand Opening of our new dining venues. A temporary wall cordoned off the construction area for approximately 15 months. Late Monday night, workers removed the wall and replaced it with plastic sheeting. As crowds gathered for the Ribbon Cutting, the crew removed the plastic sheeting to reveal a beautiful new lobby and multiple dining spaces. "Worth the wait!" declared many as they toured. Reservations opened Wednesday, September 28, for lunch and dinner, but no reservation is needed for the space called Camilla's, a coffee shop from morning to late afternoon and a cocktail bar by evening. Construction partner, Gilbane Inc.; a management team from Jones Lang LaSalle (JLL); resident dining committee chair, Barton Campbell; John Burns, CEO; and Scott Jonté, Director Dining Services, were part of the opening festivities. Rev. Dr. Lynn McClintock, Director Pastoral Care, offered a blessing moments before the ribbon was cut. The opening of these new restaurants marks a major milestone in our Vibrancy! expansion project that will result in 118 new apartments and the construction of a new Vital Living Center for fitness and comprehensive wellness.
To learn more about Westminster Canterbury Richmond, please visit our website – www.wcrichmond.org.