There's Never a Dull Moment at Westminster Canterbury Richmond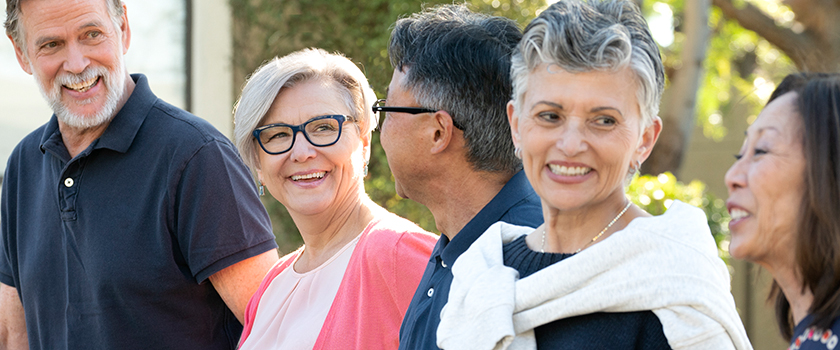 Life enrichment manager keeps residents engaged beyond the Richmond campus

Richmond, Virginia is a cultural focal point in the Mid-Atlantic region. The amount of new and hip restaurants alone makes Whitney Woodruff's job interesting. She's the life enrichment manager at Westminster Canterbury Richmond, and part of her role is to curate off-campus outings for residents. Along with great dining, Richmond is home to excellent theater, music, art and history. There's so much going on all year that it's easy to see why people choose to make the city and surrounding area their home.

Socialization is part of wellness

Whitney considers herself to be a great tour guide of Richmond, Virginia. She enjoys helping residents connect with each other and the greater Richmond area and beyond. About five times a month, she arranges daytrips and lunch outings based on resident suggestions or her own research. In her 12 years with Westminster Canterbury Richmond, she's gotten to know the residents and has a good idea of what outings will be popular.
"The lunch outings were something I started when I first got here. I try to pick places residents may not go to on their own. We try to choose new places, and with the Scott's Addition district, that's been really fun. I also meet with the resident recreation committee once a month, and we share our ideas about what outings we should plan. A lot of times they come to me with really great ideas, so it's just a matter of making it happen," Whitney said. Once trips are planned, residents are notified via an internal email newsletter and flyers.
"We've done overnight trips. We visited Pennsylvania. We went to the Sight & Sound Theatre. We did a trip to West Virginia. For the longer trips we rent a charter bus for residents' comfort. In September we're going to Sylvan Heights Bird Park, which is just over the Virginia border into North Carolina. In October we're going to Bedford to visit the D-Day Memorial," Whitney said.

Not all excursions stray that far from home. Residents have plenty of opportunities to visit wonderful art galleries including the Virginia Museum of Fine Art and Art Works. For residents who are subscribers to the Richmond Symphony or the Richmond Ballet, Whitney's team has arranged a door-to-door shuttle so residents can avoid the hassle of downtown parking.
So far this summer, residents have tried a handful of new restaurants including Lebanese cuisine and a night at Riverside Center for the Performing Arts. Things to look forward to are an upcoming trip to the Virginia Museum of History & Culture and a night to see Wicked at Altria Theater in September.
Creating connections through experiences

"My favorite kinds of trips are where everyone comes home just as happy as when we left. I love to see the residents enjoying themselves. We went to some baseball games this summer: Washington Nationals and the Richmond Flying Squirrels. At the Squirrels stadium, they have photos of the All-American Girls Professional Baseball League, and one of the residents was telling us about how she played in the league in her youth. It's things like that, the socialization element, that help people open up and connect," Whitney said.

Most trips are open to both independent and assisted living residents, but some trips are more adventurous than others. Another of Whitney's treasured experiences was helping an assisted living resident tour an aircraft carrier. The resident told Whitney he hadn't been on one since WWII.
Experiential living close to home
The COVID-19 pandemic made things tricky for gatherings and outings, but Whitney got creative and instituted some things that have remained since the restrictions lifted. Whitney started a program called "Who Knew?" It's a resident-to-resident interview series that is filmed live on stage in our Sara Belle November Theater. A phone line was devised so residents could watch on TV in their homes and call in to ask questions in real time. Even though social distancing is no longer a requirement, this program has continued to grow.

Whitney is also part of a group called Activities Professionals in Independent Living, a professional network in the Richmond area for those who coordinate activities in industries related to senior living. She shares ideas with people in her role at some of the other bigger active adult communities in the area. Sometimes she partners with other senior area communities for day trips. It's another great way for residents to socialize with those who they may not have met otherwise.

There's so much regular programming on our campus that residents could never feel bored. Several resident and instructor-led art and fitness classes are available. You could try something new every day. We encourage our residents to connect with one another through experiences.

We invite you to drop in for a fitness class or participate in an activity to see what life at Westminster Canterbury Richmond is all about. Call us today at 877-277-9908.