Vibrancy! Construction News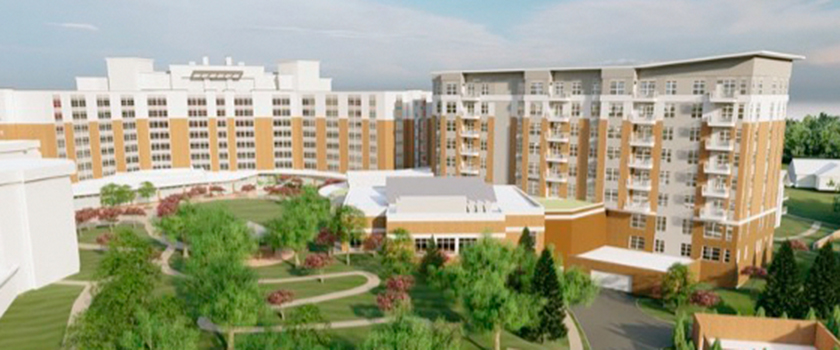 The Vibrancy! construction project is well underway as well as several other improvements. It is our intention to keep you up-to-date and informed. Much of the work that has been previously shared with you is ongoing. Here are the most recent details on a few new developments in our construction projects.
A map of all construction zones to avoid is included in this memo. Residents, staff and visitors should not attempt to access areas that are fenced off for construction. This is an important safety issue. Additional spaces will be temporarily unavailable for a short period in the coming weeks.
Cochrane Pond – A second pump station will be installed beginning Monday, June 13. A portion of the sidewalk around Cochrane Pond will be closed for two weeks. See the map for details. This work will increase the irrigation capacity for our growing campus. While this work is being done, the north side of the campus will be without irrigation. Our team will hand water in these areas as needed.
Dog Park – Artificial turf will be installed soon, creating a big enhancement for our dog owners and their furry friends! During the two-week installation, the sidewalk and driveway to the Avalon Entrance will be closed. See the map for details. Drivers may approach the entrance through the Avalon parking lot. The exact dates will be shared soon.
Avalon Entrance – Exterior demolition will begin Monday, June 13. Exterior foundation work will begin Monday, June 20.
Village Apartments – Site work for the future Village Apartments will continue during June as trees and parking lot areas are removed to make way for construction.
There is a great deal happening at Westminster Canterbury. Thank you for all the ways you are adjusting and adapting as these enhancements are underway.
Walking and Wellness
As portions of the sidewalk near Cochrane Pond and the Avalon Entrance are temporarily closed in the coming weeks, please take advantage of the walking paths on the Tower Green. Seven laps around the Tower Green total approximately one mile. This beautiful space is a great spot to get some exercise and sunshine or even play a round of bocce.
Ongoing Updates
Our monthly construction update video is the best way to see behind the scenes of all the progress. It debuted at June's Westminster Canterbury Monthly, and you can see the replay daily at 10 a.m., 2 p.m. and 6 p.m. on TV971. You may also watch on demand on Touchtown under the Vibrancy! tab.
Touchtown Community Apps and Digital Signs
The Westminster Canterbury Tales