What Can Life Plan Communities Offer That Other Senior Living Communities Can't?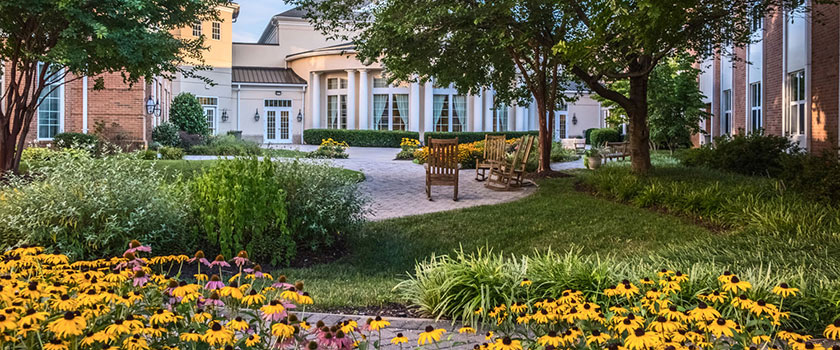 A wide range of retirement choices is available for active adults. What comes to mind when you hear the term Life Plan Community? Do you have a clear idea of the benefits that Life Plan Communities provide and how they operate? And how do they stack up compared to other options?
Westminster Canterbury Richmond and similar Life Plan Communities provide financial stability, healthcare and maintenance-free living to support an active lifestyle that allows you to thrive socially, physically and emotionally. By choosing a Life Care Community, you are securing future healthcare and controlling future costs. At Westminster Canterbury Richmond, you will find:
An award-winning, not-for-profit community
The first in Richmond to be nationally accredited
Boundless opportunities
An exciting Richmond, VA location
Levels of care
Life Plan Communities like Westminster Canterbury Richmond offer maintenance-free independent living with a vast variety of dining options, amenities and programming to enjoy with your peers. A continuum of healthcare services is provided on campus so residents have priority access if and when they need a higher level of care. This includes assisted living, memory care support and skilled nursing care.
If you are like the roughly 70% of people older than age 65 who may need some form of long-term care, the Life Plan Community model has you covered. All Life Plan Communities offer higher levels of care, which may include assisted living, skilled nursing and memory care. Westminster Canterbury Richmond offers all three: assisted living, memory care and the Mary Morton Parsons Health Center, which provides long- and short-term skilled nursing care. This is a huge benefit of choosing a Life Plan Community – you know exactly who will care for you or your partner should the need ever arise. You won't have to rely on someone else to make the decision for you.
Contract options
Life Plan Communities typically offer three main types of contracts: (1) Type A or "Life Care," (2) Type B or "Modified," and (3) Type C or "Fee-for-Service." Each contract generally has a one-time entrance fee and a monthly service package. The exact amount you invest for each contract varies based on the contract type, residence and refund type chosen. At Westminster Canterbury Richmond, the Life Care contract is the most popular, although others are offered that may be a better fit for your personal financial situation, particularly if you have long-term care insurance.
Services, features and amenities
Although the levels of care, contract options and costs are all incredibly important when considering a Life Plan Community, perhaps the most important decision is ultimately choosing a community where you can be engaged, involved, social and happy. People who choose Westminster Canterbury Richmond have always known how to Live Life Well, but now they have the time to do so. Residents take full advantage of a variety of experiences all available right here within our community.
Lovers of the performing arts can get their fill of musicals, plays, speakers and concerts at our Sara Belle November Theater. Artists can work on their craft or start a new one at the McGue-Millhiser Arts studio or admire the work of others in our campus art galleries. The Child Development Center offers an opportunity to share love and wisdom with a child. The Gordon Woodworking Shop is fully equipped with the tools for you to build cabinets or create toys. The Cochrane Pond offers great bass fishing. In addition, Westminster Canterbury Richmond offers wellness classes ranging from high intensity workouts to chair yoga, lectures from local and nationally recognized speakers, and excursions to some of the best dining, shopping and cultural experiences Virginia has to offer.
Living life well
Choosing Westminster Canterbury Richmond is a decision that will enhance your entire lifestyle. From a gorgeous, new residence to the security of knowing you have health services should you or your partner need them and the dozens of services, amenities and opportunities to truly enhance your daily life, the benefits of a Life Plan Community are clear. There is no better place to Live Life Well than Westminster Canterbury Richmond.
For more information on how you can call Westminster Canterbury Richmond "home," click here and request a free, no obligation information package.
If you aren't ready to move today, call us at 877-277-9908 to learn more about the Vibrancy! expansion that features beautiful, brand-new apartment homes, dining venues, a fitness and aquatic center and more.