You've Earned Your Retirement
Choosing a retirement living option to fit your unique lifestyle is easier than you think.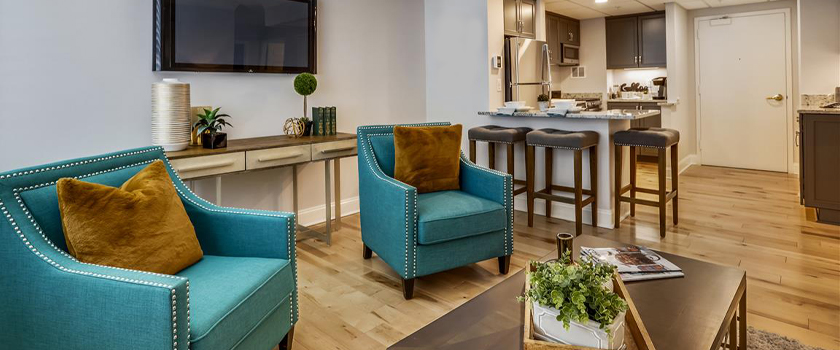 A little girl from Kansas once said, "there's no place like home," but maybe home is more of a feeling than an actual place. Your house is probably comfortable and full of warm memories, but what happens when the house you love gets to be too much work? Over the past 20 years, interest in active adult and Continuing Care Retirement Communities (CCRCs), or Life Plan Communities, has steadily increased and there are more options than ever. Independent living communities are especially alluring to seniors who want to continue their vibrant lifestyles while planning for tomorrow. Communities like Westminster Canterbury Richmond allow you to live a truly independent life, free from the hassles of housework, cleaning gutters, cutting grass and more.

A time to look forward to

Shirley Robbins moved to Westminster Canterbury Richmond just a few months ago, a move she was excited to make. "It's always been my hope to come here. Really. I've known about it since the late 70s when it first opened. I never thought I would get here because of the cost, but I had a wonderful sales counselor who worked with me to figure it out. I'm so glad to be here."

Many residents, just like Shirley, had a connection to Westminster Canterbury Richmond before they moved. Jim and Nancy King have been residents for more than four years, but Nancy worked here many years ago. Jim's mother had even been a skilled nursing patient in the past. As longtime Richmond residents, they've seen the community blossom into what it is today.

"I just think they do a wonderful job of keeping up with the times and keeping everything fresh and clean. They paint continually. They put new carpet in. They're always keeping it up. It's better than ever. We're looking forward to the completion of the expansion, especially the Vital Living Center," Jim said.

Choose the right amount of space for you

The Kings came from an active adult community where they had lived in a townhouse for 17 years. They slimmed their possessions down to fit the two-bedroom apartment they now have in the Tower.

"An interior decorator who we worked with in the past helped us with the treatments and paint colors. You're allowed to paint your walls any color you want. Everyone begins with a fresh start: new appliances, new fixtures, and everything. We moved in with our walls already painted the colors we had chosen. It looked like a new apartment," Nancy said.

Conversely, Shirley was in love with her apartment at first sight. She chose the Gloucester layout from the variety of floor plan options. "Fortunately for me, I liked my apartment just the way that it is. It had been modernized and updated recently. It fit me to a T. I really didn't do anything to mine, but people do have that choice. I'm just happy to have every appliance that I had in my previous home," Shirley explained.

Going from a house to an apartment can be an adjustment. Westminster Canterbury offers services for residents to help them downsize, pack and move their belongings into their new homes. You can be as involved, or not involved as you wish. Shirley opted for minimal involvement and even hired a company to assist in what she called a purge.

"I was excited to come. I was going towards something that was very exciting for me. This is a little bit like going to college. I think what is important for people to know is the process of what I call purging. For me, it created so much freedom to get rid of things that I really did not need. You need very little, particularly as you age. I find that the less I have, the more freedom I have to enjoy the arts and entertainment. I'm not burdened or bogged down with a lot. And yet, in this apartment, which is under 700 square feet, I have everything that I want. I did not leave anything behind that I truly felt bonded to," Shirley said.

Make the most of smaller living

Hosting family gatherings is part of what makes a house a home. Many worry that without the big house, they can't comfortably host friends and family. The Kings use their extra bedroom as a place to host visiting family members. When it's not being used as a guest room, Nancy uses it as a computer room where she does her writing and designing. When they want to have their families over for a celebration, they use the common lounge on their floor that gives them more space to entertain.

Shirley and the Kings also enjoy a thriving social life at Westminster Canterbury by participating in many of the activities and groups on campus.

"Independent living means really doing what you want to do every day. We're not encumbered with things like lawn care. We get up in the morning and figure out what seems like the most fun, and that's what we do that day. So it really is freedom," Nancy King said.

The freedom from house repairs and yardwork allows you to explore things that make you happy. Although it can be intimidating to leave a place you've called home, it can also be an exciting time to take charge of your journey ahead and create the kind of life you want. With on-site healthcare services, staying independent longer is easier and affordable. If you're thinking about making a change this year—let's talk. Call one of our helpful Life Plan Advisors today at 877-277-9908 to learn about your options.