Circling Back with Sandy
Catch up with one of our Vibrancy! members as our expansion project comes together.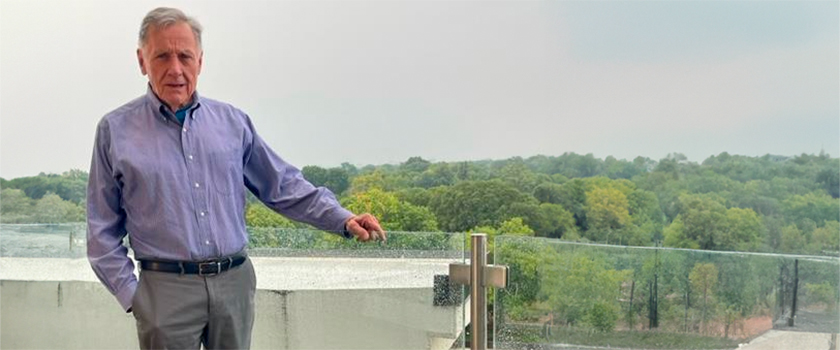 Vibrancy! Club member and retired teacher Sandy Dallas is watching with anticipation as Westminster Canterbury Richmond prepares to welcome new residents next summer. With our expansion well underway, new buildings are taking shape around campus. Sandy already spends a lot of time at Westminster Canterbury, visiting friends and attending events. When we interviewed him last year, he was pleased with his decision, so we caught up with him to see if he still feels the same. Here's what he had to say:

"The team has been wonderful. They're always quick to reply when I have a question. They've kept us in the loop with regular updates, too. At the beginning, they had a nice social for us, with lots of good food, and we got to meet many of the folks who are coming in. It's nice to meet people who will be moving in at the same time. They've kept up with these events through learning sessions and classes. I've gone to each of their learning sessions."

Home Is Where Your Friends Are
One big reason Sandy decided to make his home at Westminster Canterbury is because of his friends who already live here. He's on campus often, visiting friends and dining in our dining venues.
"My friend Bill, whom I've known for 20 years, lives there, and he keeps saying, 'Sandy, you need to come over and meet the people and find out what it's like.' That really helped me decide. Plus, I'm alone here, and what I saw at Westminster Canterbury, particularly in the Tower, seemed nice. Each floor has its own little social group. The eighth floor is very proud of their social group. It makes a big difference to have people around, have good conversations, and not be alone. That's quite important as you get older," Sandy says.
Your Home, Your Way

Although Sandy loved the camaraderie he found in the Tower, he preferred a Village Apartment in our Vibrancy! expansion that offered a patio. Another perk of being the first owner of an apartment is that you get to make it yours. Late last year, Vibrancy! Club members attended meetings where they chose paint colors, flooring, finishes and other customizations for their apartments.

"I put in hardwood floors and chose a nice paint color. I ended up deciding not to get the fireplace because it took up a major wall, and I had lots of paintings that I wanted to show. I have a fireplace in my current condo and I've never used it. I'm also having a lot of cabinetry work done. I know it's going to look great. They've been so accommodating with everything. They have a good team that works on this stuff," Sandy says.

Sandy currently resides in a three-bedroom condo in Richmond, and his new apartment at Westminster Canterbury is a little smaller. Downsizing can be one of the more challenging hurdles to clear before choosing retirement living. Thankfully, Sandy's no stranger to downsizing and the team at Westminster Canterbury has dedicated senior move experts who can help guide soon-to-be residents through the process.
"The team has been excellent about having workshops and sessions for us. They did one on the dynamics of moving at our age and how it psychologically affects you. But they also had a session on strategies for downsizing. They said not to start with emotional things like photographs. Start with pots and pans. You can get rid of those easily," Sandy said.

A team of experts at Westminster Canterbury helps make moving as easy as possible. Our hands-on approach extends beyond the workshops as we help you figure out where to start and assist you through every part of the process.
Looking Ahead

Sandy has about a year to prepare for his move and is in a good frame of mind about the changes to come. For some, the idea of moving can be daunting, but when you have as much to look forward to as Sandy does about his new home, that feeling is quickly replaced with excitement.

Because Vibrancy! Club members are already part of the Westminster Canterbury family, they can take advantage of the wonderful programming we host in our Sara Belle November Theater

Sandy loves live performances—opera, ballet or theatre, and he's delighted by the many wonderful opportunities in Richmond to enjoy them. The frequent live performances hosted at Westminster Canterbury are among the things he's looking forward to most, and he's thankful he can already attend performances that pique his interest.

"The performance by the Glenn Miller Orchestra in August was great," Sandy said.

Sandy is working on his family history, and he plans to continue this work when he moves to campus.

"They have wonderful workrooms there. There's a computer room, an art room, and rooms where you can do projects. I'm dealing with many photographs, and I've already spied a place that I like where I can work. My friend showed it to me. So that's one of the things. I like to have a place to focus; that's very important to me. And they have where I can do that."

Does Sandy's exciting move have you thinking about making a move of your own? If something Sandy said resonated with you, or you're curious about Life Care Communities, we're ready to answer all your questions. Call us today at 877-277-9908, and let's talk about what life here can look like for you.