Retirement Doesn't Mean Slowing Down
Two busy residents prove that retirement is only a second act.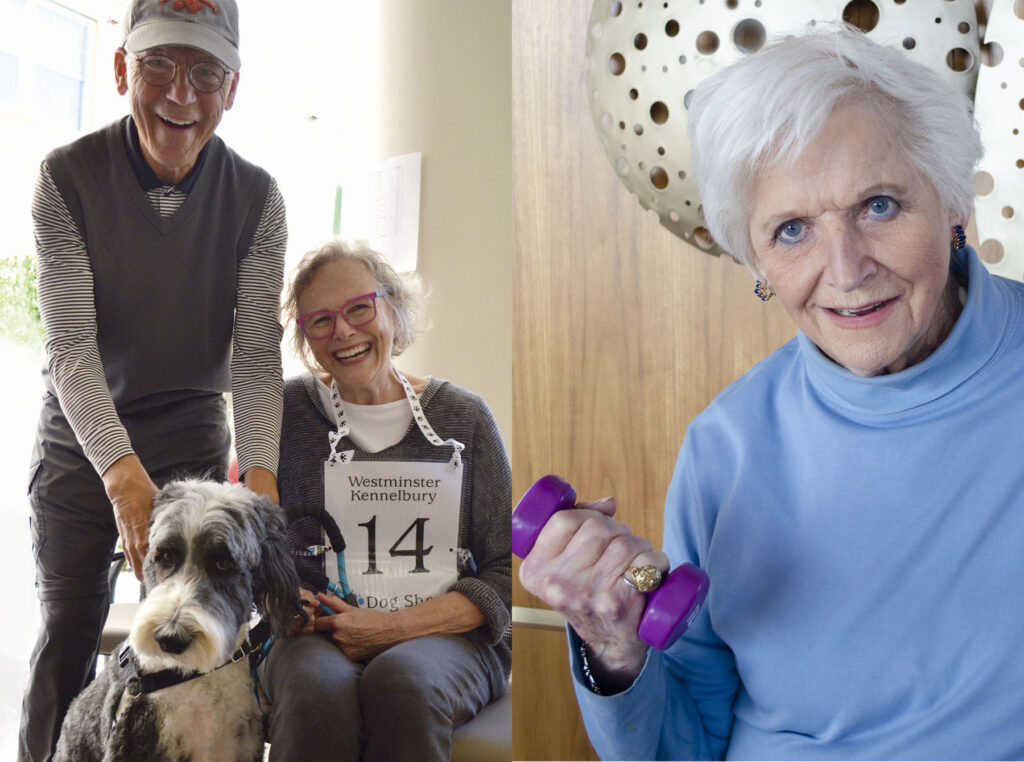 There's no such thing as an ordinary day at Westminster Canterbury Richmond. As the biggest Life Care community in the region, the programming we offer has to keep up with resident demand.
If you're looking to shake things up in the new year, Westminster Canterbury Richmond undoubtedly has something for you. One of the best parts of getting involved with community activities are the friends you meet. As you age, your social circle can feel like it's shrinking. Here you will find another chance to meet a whole new cast of characters.
Meet Dr. Sam Fuller
When retired physician Sam Fuller and his wife uprooted their life in Lynchburg to move into Westminster Canterbury Richmond, bringing with them only their dog Maisie for company, it was a decision that had many of the couple's friends raising skeptical eyebrows. Little did they know what an excellent choice this would be. Sam admits being at least a little bit apprehensive himself before the move, but after he gave Westminster Canterbury Richmond a chance, he was very glad he took that first step.
"I love it. There's so much going on out here. I tell our friends back home, if they're not entertaining us, they're exercising us. And if they're not exercising us, they're educating us. I'm convinced that I'm going to live longer and healthier life here."
Since moving to Westminster Canterbury Richmond almost five years ago, the Fullers (and Maisie) have adopted a very active lifestyle. Sam usually starts his day by taking Maisie for a walk to the on-campus dog park. "She never met a dog or a person she didn't like, so she has lots and lots of friends," Sam chuckled.
On Thursdays, he has a standing tee time at a nearby golf course with some buddies from Westminster Canterbury Richmond. "When I get back from golfing, I like to visit the galleries we have here. Three of my photographs are in this month's exhibit. I belong to the photo club. We meet every other month to share photos and talk techniques. We've even taken some outings to different photo processing facilities to learn more."
Sam takes an exercise class on Fridays that's followed by a current events discussion group. He also takes painting classes on the weekends. He and his wife have served as floor leaders and on various committees.
Meet Kit Cafaro
It's a funny story how Kit Cafaro came to Westminster Canterbury Richmond. Years prior, she and her husband had made a deposit and forgotten about it. When the maintenance of her Long Island home became too pesky, her daughter suggested she use the deposit and relocate to Richmond. Kit didn't even know what the community looked like. To say she was pleasantly surprised is an understatement.
"Now I get to exercise four times a week and I've made a lot of good friends too." Kit described her typical week, "I never have my coffee until I've done my stretches. My exercise classes get started around 10 a.m., so that gets me going. On Mondays, I have two classes back-to-back. We have strength class first, then chair aerobics. Tuesdays I have balance class and Wednesdays we have strength class again. Thursday is another balance class."
Four days of exercise in a row can't tire Kit out. She saves enough energy for her volunteer day. "On Fridays, I volunteer at The Treasure Chest—a resale shop where people donate things they don't want. We have some really beautiful things that people leave, or family members don't want to take. It all benefits Westminster Canterbury Foundation."
Trying something new
It is only when we're outside our comfort zone that we grow. Both Kit and Sam have dabbled in things they never thought they'd be interested in.
Kit's taken up knitting and this past holiday season she and fellow kitting club members made hats for the Salvation Army. "I tried knitting when I was in elementary school. I never finished anything," Kit laughed. "I really just started so I could have something to do while I talked with the women who sometimes knit by the fireplace here."
As a physician, Sam never had the time to devote to new hobbies. He's now taking resident-taught painting classes on weekends and really enjoying it. "I may not be the best, but I appreciate how nice and generous everyone is. It's not easy to put yourself out there, but people here are very receptive," Sam said.
Dining and entertainment
Move to Westminster Canterbury Richmond and you'll seldom dine alone. Our new Promenade dining venues were carefully designed with gathering in mind.
"The Promenade is very nice. I have dinner there with people several times a week. We all hang out there and have drinks now and then at the bar too. It's a nice place and great to talk to some really good, smart people. And when I invite my family to come for dinner, they're overwhelmed by how good it is," Kit said.
Sam and his wife often have dinner at the Promenade with their friends or they take in a performance at the Sara Belle November Theater on campus.
"The theater is fabulous. It seats more than 300 people, and the acoustics are just great. We have about 50 performances a year there. They bring in acts like the Richmond Symphony, the VCU Jazz ensemble and people who might be touring the country. It's about one performance a week—all included and just a short walk from our apartment," Sam explained.
For some, retirement means taking things slower, but for Westminster Canterbury Richmond residents, it's another opportunity to learn something new and, live life well.
With the passing of another new year comes the chance to make changes. If you've been considering moving to a Life Care Community, call one of our friendly representatives today at 804-256-2092.