Supporting Diversity and Equality
How our community supports diversity and equality at home and throughout Richmond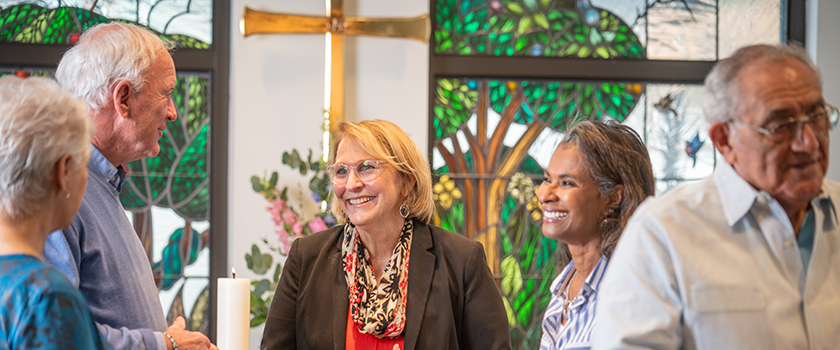 Seeking Change
In 2020, residents at Westminster Canterbury Richmond started having big conversations about race and racism in the greater Richmond area. Those discussions included examining how to make our own community more diverse and inclusive. As the residents gained a deeper understanding of injustice and inclusivity, it became clear that knowledge was key if they wanted to be part of the change.

Knowledge Is Power
Westminster Canterbury Richmond's pastoral care team, led by director Lynn McClintock, has laid some building blocks in creating an interfaith and inclusive community. We welcome all beliefs and strive to offer programs that nourish you no matter where you are in your journey.
"Following the murder of George Floyd, we had several residents who wanted to learn more about equity and diversity. They said, 'We hear about things like Black Lives Matter, but we don't know what that is. How can we learn more and do better?'" Lynn said.

Lynn was encouraged when residents came to her with questions and ideas. Seven residents offered to be trained to lead small groups on the issue of racial understanding.
"Since then, we've had 147 gatherings—either guest lecturers or small group meetings on race. We just completed a series on structural racism within Richmond and Virginia. Some residents even draw upon their own experience in academia to give lectures and presentations that help demystify some of the concepts and terminology," Lynn said. "Residents have attended listening training groups and have wrestled with challenging books. The resulting conversations have been lively and enlightening as residents try hard to listen to one another. It's not always easy!"
"We also had about 30 people—many of whom had attended our lectures and small groups—come to a meeting two weeks ago asking, 'What can we do? We're ready. We feel like we've learned a lot. What can we do to help create a more equitable and just community here and in Richmond?' This is an important new venture for us, and we would love to know if other communities like us are exploring similar actions," Lynn explained.
"We're at a wonderful point right now and we want to learn even more, then figure out how Westminster Canterbury can be part of positive change. A great number of our residents want to connect with groups that are doing brave work on issues like disparities in employment, housing, education and things such as that," Lynn said.
Diversity, Equity and Inclusion
Westminster Canterbury Richmond staff members have formed a diversity advisory committee and are exploring ways that such values are—and can be—upheld and affirmed on campus. Following several training sessions led by a consultant, the committee is now forming its charter and will soon create new initiatives.

The Future Looks Bright in Richmond
Our Westminster Canterbury Foundation started an important three-year project with LeadingAge Virginia and four other Richmond, Virginia senior living communities – Beth Sholom, Cedarfield, Brandermill Woods and Lakewood – with the purpose of building resident diversity on our campuses. The project called "Dreaming Home" helps elders across multiple demographics in greater Richmond "dream of home." We want to empower elders and their families with knowledge of senior housing options in our region and learn how we can better design services and offerings that incorporate diverse elder desires for home.
Tracking Our Progress
In an ever-changing world, there are more nuances these days that can make certain subjects hard to discuss.
"We have a lot of different perspectives here and it's nice to see residents creating a judgment-free space to ask honest questions. Not everyone agrees with one another, but we are creating an opportunity for these respectful conversations to happen," Lynn said.

Lynn elaborated, "Our ultimate intention is to care for everyone, regardless of religious or racial ethnic backgrounds. We want to support our residents as they learn new ways to be engaged with the world. Perhaps we have set out the banquet, and people are being fed in the way that they seek to be fed. Then they may choose to go out and serve—or they may simply venture into courageous conversations with one another or with their families. That's the best way to do service, when it comes from a heart of love and care. We aren't telling anyone how to feel or what to do. Rather, we are having honest conversations about these issues and discovering the places where we can all connect."
"It's not just a moment in time—it's an era in our culture, and we understand that it is crucial to make the effort to better understand and accept others. We have started doing the work."

If open-minded neighbors and community-building workshops sound appealing to you, Westminster Canterbury Richmond welcomes all. Join us for one of our learning sessions or guest lectures by calling a Life Plan Advisor today at 877-277-9908.