The Canterbury Club is Richmond's Best Club for Retirees
The Canterbury Club gives you the security of knowing your home is waiting for you—when you're ready.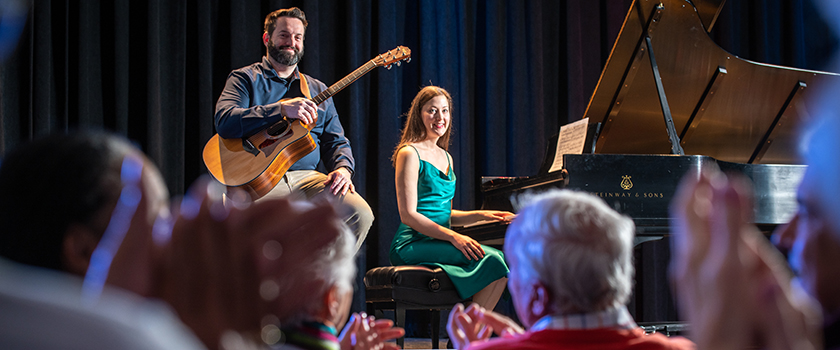 It's never too early to think about the future. Retirement living can seem far off, but planning for it now can make life easier down the road. That's why Westminster Canterbury Richmond has a unique club for people who make a nominal deposit on a future home with us. By joining the waitlist now, you're planning for a home you love in the future. The Canterbury Club also comes with a variety of perks that'll give you a better sense of what life at the community could be like for you.

Why Join a Waitlist Now?

As is the case with many highly regarded Life Plan Communities, Westminster Canterbury Richmond has a waitlist. When you join the Canterbury Club, you get priority notification of available residences, based on the date of your application. If you're not in a hurry to move in, the Canterbury Club offers added security that you'll get the kind of residence you want when it's available. The best part is that if you choose not to move, your deposit is 100% refundable.

The Canterbury Club is no ordinary waitlist. Depositors get access to the great cultural programming and performances offered in our beautiful Sara Belle November Theater. Club members can make reservations at any of our dining venues by talking to their sales counselor. We encourage club members to familiarize themselves with the variety of fantastic options available. Canterbury Club members also receive invitations to on-site events, seminars, and an annual applicant's reception. It's a great way to meet your future neighbors and feel connected to the community.
For one of the Canterbury Club's newest members, Sheena M., the motivation to join was influenced by the fact that she's on campus so frequently visiting her father who is a resident. "When I was young, I never thought I'd get older, so I didn't think about retirement too much. But over the past three years, I've spent a lot of time at Westminster Canterbury visiting my 95, almost 96-year-old dad. I have plenty of friends over there now too. I've gotten to the point in life where it's hard for me to think about myself getting older because my inside doesn't feel as old as my outside looks. And yet, I must be conscious of the fact that I don't want to be a burden on my children. There may come a point where I don't want to live in a house with a yard, and joining felt like thinking forward," Sheena said.

You Deserve Options

Unlike many Life Plan Communities Westminster Canterbury Richmond offers a wide variety of homes. Our campus is also expanding, which means more types of residences and even more friendly neighbors. Apartments in the Vibrancy! expansion have been popular and the all-new buildings should be ready for their first residents in 2024.

Sheena chose to put down a deposit on an apartment in the Tower, which was the community's first building. The Tower has four different styles of floor plans. "Dad lived in the Tower when he was in independent living. He really liked his apartment. It was on the eighth floor, and he had a great view. I also feel like when the time comes to move in, I'll want to be closer to where the main activities are, which is in the Tower. I like the idea of being in close proximity to the theater, the restaurants and the gym," she said.
Sheena has friends who live in the Courtyard and Garden Apartments, but Westminster Canterbury also has free-standing homes that are perfect for those who need a little more space. These homes offer garages and inviting front porches.

Move When You're Ready

Nobody wants to feel pressure to make a major life decision until they're sure. Joining the Canterbury Club allows you to take the first step without making a major commitment. With just a small deposit (which is completely refundable), you can gain a lot of confidence. Sheena described how simple the process was for her.
"My neighbor and I took a tour together. Our sales counselor was very gracious and answered all our questions honestly," Sheena explained.
"What's appealing about Westminster Canterbury is that I know a lot of people already. There are also so many opportunities to get to know people through discussion groups, attending events, and dining opportunities in their restaurants. I think the socialization aspect is really important in terms of mental health and stimulation," Sheena added.
"After the tour, my sales counselor handed me an application, which I filled out but didn't return until recently. I just needed more time to think and she never made me feel rushed. When you're dealing with people who are making major life decisions, I think it's important to provide a really good level of trust with them. I trust the information I'm getting from the sales team. I know she's taking the time to get to know me and my family. All those interpersonal relationships are very important for establishing trust.

Even while I was returning my application, the sales counselor pointed out more options and we talked through other scenarios we might want to consider. She was very helpful, and it was easy. The whole thing was so transparent," said Sheena.

Just because you've signed the paperwork doesn't necessarily mean you're ready to uproot your life. Sheena says it's not something she even wants to think about every day. She's traveling to Scotland this summer and has peace of mind knowing she has taken a step in planning her future when the time is right for her. Timing is different for everyone, but placing a deposit on a home at Westminster Canterbury Richmond is a good first step. She's chosen the community that best matches how she wants her life to be. For now, she loves to visit her friends and father on campus, and that's comforting to her.

Westminster Canterbury Richmond is known for a warm sense of community. Residents are always looking forward to meeting future neighbors when Canterbury Club members attend workshops and social events. If you or a loved one are thinking about making a move, joining now gives you time to learn more and meet future neighbors like Sheena. Schedule your tour by calling 877-277-9908 to speak with a sales counselor today.